Hispanic Heritage Month
By: Jacqueline Gomes, RDN, MBA
National Hispanic Heritage Month is celebrated annually from September 15 to October 15 for recognizing the contributions and influence of Hispanic Americans to the history, culture, and achievements for the United States.
Hispanic communities may celebrate their cultures through special traditions, language and of course culturally celebrated foods!
Family meals are an integral part of Hispanic culture. This activity provides a chance to positively influence eating behaviors, improve health and share family traditions.
One of the most popular dishes throughout Latin culture is "arroz con pollo" or chicken and rice! This dish originated in Spain and is typically prepared with chicken, rice, stock, sofrito and a variety of spices. Today, there are many variations of this dish.
What's your favorite way to prepare chicken and rice? Below is one way I like to make it at home for my family.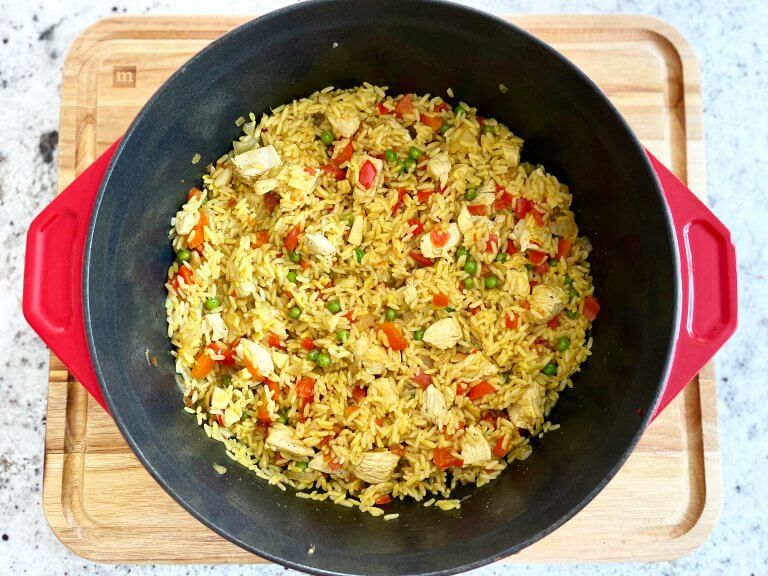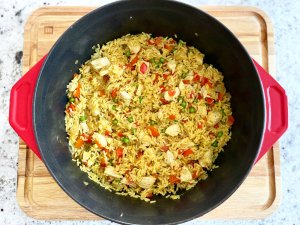 Arroz con Pollo 
Prep: 8 minutes
Cook: 20 minutes
Makes: 4 servings
Ingredients:
1 tablespoon olive oil
½ pound chicken breast, cut into 1 inch cubes
½ onion, minced
½ red bell pepper, minced
2 garlic gloves
1 tablespoon cumin
1 bay leaf
1 cup long grain rice
2 cups chicken broth
½ bouillon cube
3 to 4 threads of Saffron (optional)
1 tsp turmeric
¼ cup frozen peas
Directions:
Heat olive oil over medium -high heat in a Dutch oven. Add in cubed chicken breast, sauté tossing frequently, 2 to 3 minutes. Remove to a plate and set aside; note: chicken doesn't have to be cooked through as it will go back into the pot to continue cooking in step 4.
To the pot, add in minced onion, bell pepper and garlic cloves, cook for about 2 to 3 minutes, just until onions and peppers begin to soften. Add in bay leaf, rice, stir then add in 2 cups chicken broth and bouillon.
Reduce to simmer, add in saffron and turmeric, cover and cook for about 10 minutes.
Add in chicken and frozen peas, stir and continue to cook on low for another 7 to 10 minutes until water is absorbed. Remove bay leaf, fluff with fork and serve.
Recipe by: Jacqueline Gomes, RDN, MBA
---
Top 5 Articles: